Long-term Nucala or benralizumab effective in EGPA real-world study
Majority of patients in remission after 2 years; nearly all reduced corticosteroids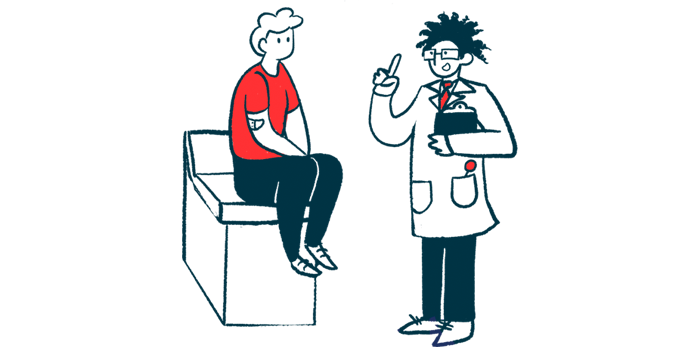 Two years of treatment with Nucala (mepolizumab) safely and effectively reduces signs and symptoms of hard-to-treat eosinophilic granulomatosis with polyangiitis (EGPA), the rarest form of ANCA-associated vasculitis.
That's according to a real-world study in Italy that also found similar outcomes with benralizumab, a therapy that works similarly to Nucala but that's not approved for EGPA.
Data from all treated patients showed that more than half achieved remission after two years, and nearly all reduced or discontinued their use of corticosteroids.
The study, "Effectiveness and safety of anti-IL-5/Rα biologics in eosinophilic granulomatosis with polyangiitis: a two-year multicenter observational study," was published in the journal Frontiers in Immunology.
EGPA is rarest AAV type that most commonly affects lungs, GI tract
EGPA is the rarest type of AAV, a group of autoimmune disorders characterized by damage and inflammation to small blood vessels, eventually causing damage to tissues and organs.
It is marked by the accumulation of eosinophils, a type of immune cell, into masses in small blood vessels. People with this form can have a wide array of symptoms involving many organs, but most commonly the lungs and gastrointestinal tract.
Corticosteroids are the mainstay treatment for EGPA, but these are associated with severe side effects  long term. Other immunosuppressive medications are also commonly used.
GlaxoSmithKline's Nucala is approved as an add-on therapy for adults with EGPA in the U.S. and for patients 6 and older with hard-to-treat EGPA in the European Union. It works by targeting interleukin-5 (IL-5), an immune signaling protein involved in the growth, maturation, and survival of eosinophils.
In addition to reducing disease activity and increasing remission rates when added to standard treatment, Nucala has been found to help free EGPA patients from having to take glucocorticoids.
AstraZeneca's benralizumab, sold as Fasenra for the treatment of asthma, targets the IL-5 receptor (IL-5R) on the surface of eosinophils, blocking its interaction with IL-5 and leading to the near-complete elimination of these cells.
MANDARA Phase 3 trial testing benralizumab for hard-to-treat EGPA
An international Phase 3 clinical trial called MANDARA (NCT04157348) is testing benralizumab in adults with relapsing or treatment-resistant (refractory) EGPA. The study began dosing in 2021 and is expected to end next year.
Now, researchers in Italy have described their real-world experience with either medication used as an add-on treatment for 49 adults (63.3% women) with relapsing or refractory EGPA. Patients were treated between September 2017 and June 2022 at nine Italian centers.
Before add-on treatment, nearly all patients (91.8%) had active disease. Most (93.9%) were receiving corticosteroids, followed by immunosuppressive therapies (34.7%). All had received high-dose inhaled corticosteroids and specific asthma medication.
Ear, nose, and throat involvement was the most common EGPA manifestation (75.5%), followed by lung involvement (59.2%). A total of 13 patients (26.6%) were positive for ANCAs, a type of self-reactive antibodies that's associated with AAV.
A total of 20 patients (40.8%) received 100 mg of Nucala and three (6.1%) received 300 mg of the therapy, once every four weeks. Benralizumab (30 mg) was given to 26 patients (53.1%) once every four weeks for the first three doses and then once every eight weeks. Both medications were administered via under-the-skin injection for at least two years.
Results showed that the add-on treatment led to a significant and progressive reduction in disease severity, as assessed with the Birmingham Vasculitis Activity Score (BVAS), in which higher scores indicate more severe disease.
After three months, median BVAS dropped from 6 to 2, then to 0 (disease remission) at one year, remaining stable for another year.
Clinical remission achieved by 38.8% of patients at 1 year and 57.1% at 2 years
Clinical remission, defined as a BVAS score of 0 and a reduction in corticosteroid dosage, was achieved by 38.8% of patients at one year and 57.1% at two years.
A greater proportion of benralizumab-treated patients achieved remission at two years relative to those on Nucala (69.2% vs. 43.5%), but this difference did not reach statistical significance.
Remission rates were similar in those with and without ANCAs, except in the Nucala group, in which a significantly greater proportion of patients positive for these antibodies achieved remission at three months (50% vs. 5.9%).
About one-third of patients experienced a relapse after two years, with comparable proportions between the Nucala and benralizumab groups (30% vs. 33.3%).
Statistical analyses showed that lower corticosteroid dose and higher blood eosinophil counts at baseline "were independently associated with remission at 24 months and predicted this outcome in 84.4% of cases," the team wrote.
Annual rates of asthma exacerbation, or sudden worsening, dropped from four to zero after one year and remained zero after two years. A total of 65.3% of patients were exacerbation-free at one year and 61.2% at two years.
Lung function was significantly improved during the first year of treatment, but showed a progressive decline from one to two years, especially with Nucala.
Moreover, while Nucala led to a significant reduction in eosinophil counts at one and two years, these cells were eliminated entirely with benralizumab treatment. The latter also resulted in a significant drop in basophils, another type of immune cell.
Most patients reduced their corticosteroid use after 2 years
After two years, 69.6% of corticosteroid-dependent patients lowered their daily dose by 75% or more, and nearly all (95.6%) were receiving 5 mg or less of corticosteroids per day. At one year, 28.3% of patients had discontinued corticosteroids, and immunosuppressive therapies were stopped in 88.2% of patients.
Adverse events, most of them mild to moderate in severity, were reported in four patients: two in the Nucala group (8.7%) and two in the benralizumab group (7.7%).
"These data emphasize the role of [anti-IL-5 signaling therapies] in the effective control of respiratory and [whole-body] EGPA manifestations," the researchers wrote, and "highlight the clinical effectiveness of targeting eosinophilic inflammation in these patients."
"However, further studies with larger sample size and longer observation periods are needed to evaluate the optimal application of anti-IL-5-targeted therapies, and head-to-head comparisons between the two [therapies] are desirable," the team concluded.