Lower Dosage of Glucocorticoids May Decrease Risk of Death, Study Suggests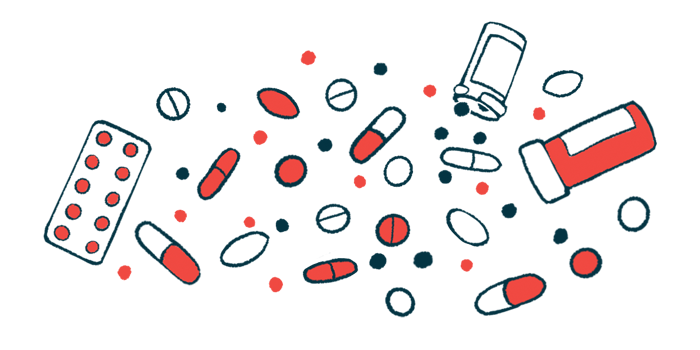 Compared with standard glucocorticoid regimen, a reduced-dose regimen may lower the risk of death and serious infections, while not increasing the risk of kidney failure, in people with ANCA-associated vasculitis (AAV), according to a review study.
No major differences between regimens were detected in terms of disease remission, relapse, or health-related quality of life.
These findings support the use of a lower-dose regimen of glucocorticoids — whose increased exposure is linked to several adverse events — in this patient population. However, because the data came from only two clinical trials, additional appropriately controlled trials are needed to draw concrete conclusions, the researchers noted.
The review study, "Comparative efficacy and safety of alternative glucocorticoids regimens in patients with ANCA-associated vasculitis: a systematic review," was published in the journal BMJ Open.
AAV is characterized by inflammation and damage to small blood vessels due to the production of antibodies called anti-neutrophil cytoplasmic autoantibodies (ANCAs).
Standard treatment consists of immunosuppressive medications, such as rituximab or cyclophosphamide, along with high-dose glucocorticoids, due to their rapid and potent anti-inflammatory and immunosuppressive effect.
While this combination is associated with higher rates of disease remission and improved survival, prolonged use of glucocorticoids is associated with significant side effects, including an increased risk of infections, heart conditions, and other disorders.
Limiting the duration of glucocorticoid exposure or reducing its dosage would likely improve treatment's safety profile, but it may also affect its efficacy, and optimal glucocorticoid dosing for AAV patients has not yet been uncovered.
With this in mind, an international team of researchers systematically reviewed published studies up to April 2020 reporting results from randomized controlled trials that compared different glucocorticoid regimens during induction of remission, regardless of other therapies.
From the initial 3,912 hits, 38 studies were accessed for eligibility, and two — covering 844 patients — were included in the analysis. The two studies reported data from the international Phase 3 PEXIVAS clinical trial (NCT00987389) and the open-label Phase 4 LoVAS trial (NCT02198248) that took place in Japan.
PEXIVAS, the largest trial on this subject to date, followed 704 severe AVV patients for a median of 2.9 years to evaluate the effectiveness of plasma exchange as well as of a standard- versus lower-dose oral glucocorticoid regimen in the first six months.
Plasma exchange involves removing and replacing a person's plasma — the liquid portion of blood that contains water, salts, and proteins such as antibodies, including ANCAs.
While the initial dose was similar between regimens (50 to 75 mg, depending on weight), dose reductions were started at different time points — second and third weeks, respectively. As a result, the cumulative dose in the low-dose regimen at six months was about 40% lower than in the standard-dose regimen.
The LoVAS study, the latest trial on the subject, compared the six-month efficacy of standard-dose (initial dose at 1.0 mg/kg/day) versus low-dose (initial dose at 0.5 mg/kg/day) glucocorticoid regimen, in combination with rituximab, in 140 adults newly diagnosed with AAV.
Both studies assessed the rates of all-cause death, kidney failure, disease remission, disease relapse, serious adverse events, serious infections, and health-related quality of life.
Combined results suggested that, compared with standard-dose regimen of glucocorticoids, the lower-dose regimen was associated with a reduced risk of death and a comparable risk of kidney failure at six months and up to 2.9 years.
While opposing trends on serious adverse event rates were observed between the trials, the rate of serious infections at six months to one year was consistently lower in the low-dose regimen than in the standard regimen.
The data also suggested that the low-dose glucocorticoid regimen "has trivial or no effect in disease remission, relapse or health-related quality of life," compared with the standard regimen, the researchers wrote.
Notably, none of the observed differences between regimens reached statistical significance, which "may be due to the fact that the improvement of the disease by other treatments may mask the benefits of reduced-dose regimens," the team added.
However, there was moderate certainty regarding the effects on serious infections, highlighting that using lower glucocorticoid doses may reduce the risk of one of the main causes of death in AAV.
"An important general rule is that in routine clinical practice, the use of conventional [glucocorticoids] should be 'as much as necessary, but as little as possible'," the researchers wrote.
Overall, the findings suggest that "compared with the standard-dose regimen, the reduced-dose regimen of GC may reduce death, probably has little or no effect on [kidney failure] among patients with AAV, and resulted in a lower risk of serious infections at 6 months to 1 year," they added.
Given the inability to draw strong conclusions based on these two studies, "future clinical trials should evaluate whether GC dosing can be further safely reduced," the team concluded.