Blood levels of SOD, an antioxidant enzyme, could mark AAV activity
Lower levels tied to greater inflammation, likely kidney or lung involvement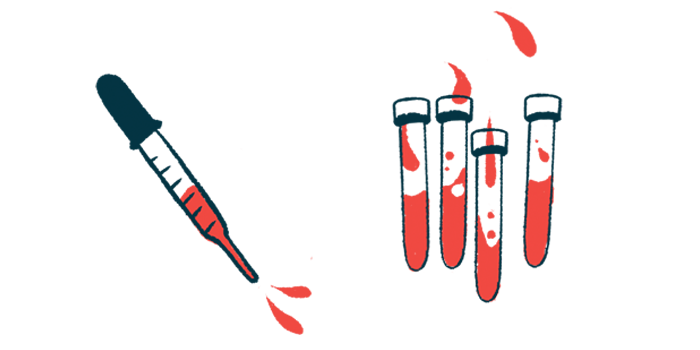 Blood levels of superoxide dismutase (SOD), an antioxidant enzyme, are significantly lower in people with ANCA-associated vasculitis (AAV) than those without this disease, and poorer outcomes are found in patients with greater reductions, a study reported.
Specifically, lower blood SOD levels significantly associated with more inflammation, a greater likelihood of kidney or lung involvement, and a higher risk of dying.
These findings suggest that "low SOD levels are an important biologic indicator of a poor prognosis for AAV patients," the researchers wrote, supporting its use as a biomarker of disease activity in this patient population.
The study, "Measurement of superoxide dismutase: clinical usefulness for patients with anti-neutrophil cytoplasmic antibody-associated vasculitis," was published in Advances in Rheumatology.
Simple, effective biomarkers needed in evaluating ANCA-associated vasculitis
AAV is a group of autoimmune diseases characterized by inflammatory damage to small blood vessels due to the abnormal production of ANCAs, self-reactive antibodies that target enzymes in immune cells called neutrophils, causing them to be overactive.
The disease can affect many of the body's organs, and its clinical severity and progression varies widely, making it difficult for doctors to monitor.
Among markers of whole-body inflammation, erythrocyte sedimentation rate (ESR) and C-reactive protein (CRP) are sometimes used to monitor a person's disease course. However, they are not considered overly reliable because they can be influenced by factors other than AAV.
The Birmingham Vasculitis Activity Score (BVAS), a clinician-rated evaluation of disease severity, also is time consuming, limiting its utility.
"Therefore, it is necessary to find other simple and effective biomarkers for AAV patient evaluation of disease severity and prognosis," the researchers wrote.
Autoimmune diseases like AAV often involve oxidative stress, a type of cellular damage that arises when potentially harmful reactive oxygen species (ROS) are overabundant and too few antioxidants exist to combat them.
In AAV, the activation of neutrophils by ANCAs drives the production of large amounts of ROS that contribute to blood vessel damage.
SOD is an antioxidant enzyme that not only helps protect cells against oxidative stress, but also suppresses inflammatory responses. It has been found to play an important role in a range of autoimmune diseases, but its potential role in AAV — and thereby its potential as a disease biomarker — remains unknown.
SOD levels significantly lower in 152 untreated patients than healthy adults
To evaluate the clinical usefulness of SOD measurements in AAV patients, researchers at The Second Affiliated Hospital of Chongqing Medical University, in China, retrospectively analyzed laboratory and clinical data from 152 newly diagnosed and untreated patients seen at their hospital.
Patients, 78 women and 74 men, had a mean age of 64.1. A total of 150 healthy adults (76 women and 74 men; mean age, 63.6 years) were included as controls.
When looking at blood SOD levels in the two groups, the researchers found that AAV patients had significantly lower SOD levels in the bloodstream than healthy adults (78.97 vs. 131.03 units/mL).
"Our research shows that the lower level of SOD among AAV patients, reflect a higher oxidative stress state compared to healthy controls," the team wrote.
AAV patients with ANCAs against the myeloperoxidase enzyme had significantly lower SOD levels than those with ANCAs against the proteinase-3 enzyme (72.2 vs. 89.4 units/mL).
That finding could be related to different inflammatory pathways induced by the two different types of antibodies, but "further studies are needed" to confirm this, the scientists wrote.
Patients with kidney or lung involvement had significantly lower SOD levels relative to those without involvement of these organs (65.1 to 70.4 vs. 85.5 to 89.7 units/mL). In contrast, patients with ear, nose, and throat (ENT) involvement had significantly higher SOD levels than those without such involvement (89.4 vs. 67.3 units/mL).
Further evaluation indicated that patients with ENT involvement were significantly less likely to have kidney involvement than those without ENT manifestations (40% vs. 63.7%).
"We believe that the relationship between [kidney] involvement and SOD level may result in lower SOD levels in patients without ENT involvement, suggesting a relationship between [kidney] involvement and SOD," the scientists wrote.
These findings suggest "SOD might be used as a simple and effective biomarker to assess organ involvement in AAV patients," they added.
Degree of inflammation in patients associated with SOD blood levels
Moreover, among patients, lower SOD levels were significantly associated with higher levels of inflammation — reflected by increases in ESR and CRP — and more severe disease, reflected by higher BVAS scores.
During follow-up, 23 AAV patients (15.1%) died. These people had significantly lower SOD levels than the other patients, as well as significantly higher CRP levels and BVAS scores.
Final statistical analyses indicated that "low SOD levels were an independent risk factor for a poor outcome for AAV patients," the researchers wrote.
Taken together, the findings suggest "that SOD levels are closely related to disease activity in AAV patients," the researchers wrote, and could serve as a disease biomarker.
They noted that additional studies, assessing SOD levels and outcomes in AAV patients over time, are warranted to further explore and confirm these findings.