Antiphospholipid Antibodies Linked to Risk of Blood Clots in AAV Patients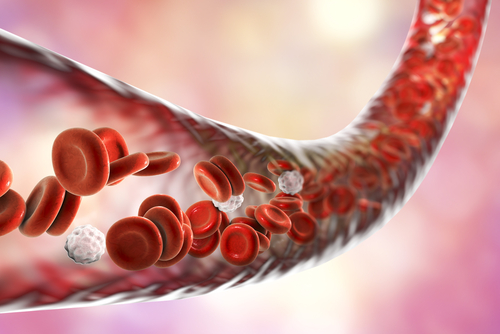 Patients with ANCA-associated vasculitis (AAV) who have persistent antiphospholipid antibodies (APLAs) at diagnosis are at a greater risk of developing blood clots, with consequent obstruction of the blood flow, according to new research.
The study, "Persistent antiphospholipid antibodies are associated with thrombotic events in ANCA-associated vasculitis: A retrospective monocentric study," was published in the journal Nefrología.
Antiphospholipid syndrome (APS) is characterized by the development of antibodies that increase the likelihood of forming clots (thrombus), especially in the legs, kidneys, lungs, and brain. Most commonly, these APLAs include anti-cardiolipin and lupus anticoagulant (LACs), but may also refer to anti-beta 2 glycoprotein 1 antibodies.
Regardless of APS diagnosis, having persistent APLAs may boost the risk of arterial and venous clots in AAV patients. Despite earlier findings linking LACs to vascular inflammation in AAV, no study has evaluated whether persistent APLAs are associated with risk of thrombotic events during follow-up in AAV patients.
A team at Korea's Yonsei University College of Medicine addressed the gap by reviewing the medical records of 138 AAV patients (94 women, mean age 55.1 years). The mean follow-up duration was 50.8 months.
As for AAV subtypes, 72 patients had microscopic polyangiitis, 35 granulomatosis with polyangiitis, and 31 eosinophilic GPA. High blood pressure was the most common comorbidity, found in 61 patients, followed by interstitial pneumonia in 57 and diabetes mellitus in 33.
While 18 patients (13%) showed persistent APLAs, 26 (18.8%) revealed arterial or venous thrombosis during follow-up, as assessed by magnetic resonance imaging, computed tomography, angiography, and Doppler ultrasound. Among these 26 patients, 4 (10.1%) had cerebrovascular thrombotic lesions and four others (2.9%) had venous thrombosis.
The patients who developed thrombotic events were significantly older at diagnosis (61.5 vs. 53.6 years) and were followed for a longer period (68.3 vs. 46.7 months) than those who did not.
Persistent APLAs at diagnosis were more frequent in patients with thrombotic events (26.9%) than in those without (9.8%). The two groups did not differ in medications, comorbidities, or ANCA antibody subsets.
In turn, thrombotic events were more common in patients with persistent APLAs at diagnosis than in those without (38.9% vs. 15.8%). This translated to a significantly higher relative risk of thrombotic events in people with persistent APLAs.
A subsequent analysis revealed that, unlike ANCA antibodies, age at diagnosis was also significantly associated with later development of thrombotic events.
Overall, "persistent APLAs at diagnosis are significantly associated with the risk of thrombotic events during follow-up of AAV," the scientists stated. "Thus, we suggest that physicians should consider the need for preventive anti-aggregation or anticoagulation therapies in AAV patients with the concomitant presence of APLAs."
Among the study's limitations, the team mentioned the lack of APLA measurements during follow-up, as well as not being able to explore the association of different antibody subtypes with thrombotic events in these patients.