Diabetes in AAV patients raises the risk of heart disease, study finds
High blood-sugar levels tied to four times greater risk of cardiovascular event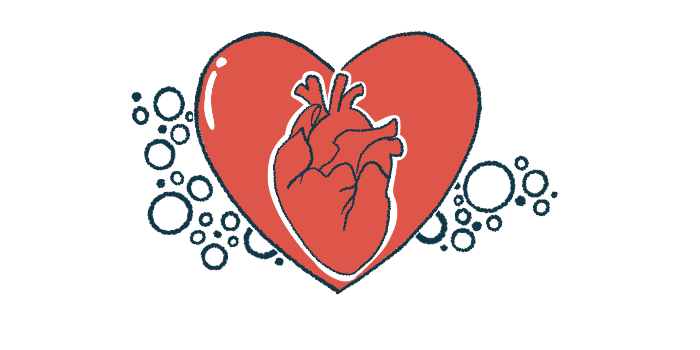 Cardiovascular events like a heart attack are more likely in people with ANCA-associated vasculitis (AAV) who also have diabetes, a study reported.
Other identified risk factors for AAV patients, a group known to be at cardiovascular disease risk, included older age and a prior history of cardiovascular problems.
"Treatment of [cardiovascular] risk factors is essential to optimize long-term outcomes in patients with AAV," the researchers wrote.
The study, "Traditional and disease-related cardiovascular risk factors in ANCA-associated vasculitis: a prospective, two-center cohort study," was published in Joint Bone Spine.
Insulin resistance common among patients on steroid treatment
People with AAV, an autoimmune disease that causes damage to small blood vessels, are at increased risk of diseases of the cardiovascular system — the heart, arteries, and veins — compared with the general population. In addition, studies suggest that cardiovascular disease can be a major, if not the greatest, contributor to mortality in AAV patients.
"To develop individualized risk prevention strategies, cardiovascular risk determinants need to be determined," the researchers wrote.
With this in mind, a team of scientists in the Netherlands and Canada aimed to identify risk factors for cardiovascular disease among adults with AAV. The study, dubbed Cardiovascular Risk in ANCA-associated Vasculitis, recruited 144 patients at Canada's Mount Sinal Hospital and the Netherlands's Northwest Clinics.
Patients' mean age was 62, 44% were women, and they had been living with the disease for a median of 5.1 years. All were in remission when they entered the study, and they were followed for a median of 2.9 years.
At the study's start, 46 out of 63 (73%) patients with available data showed signs of insulin resistance — a reduction in the body's response to insulin, a hormone that helps cells take up blood sugar.
Insulin resistance can be a precursor to type 2 diabetes. Of note, most of the patients with insulin resistance were being treated for their disease with the steroid prednisone, which can cause insulin resistance as a side effect.
During follow-up, 16 (11%) of the participants experienced a cardiovascular event, defined as a heart attack or other serious heart-related or cerebrovascular problem requiring hospitalization.
A total of 28 cardiovascular events were recorded in the study, with eight patients experiencing multiple events. Two died of a cardiovascular event, and 10 others died of causes not related to cardiovascular disease.
The researchers then constructed statistical models to look for factors that were significantly predictive of the risk for a future cardiovascular event.
Older age and previous heart disease among other risk-raising factors
Several traditional risk factors of cardiovascular events were predictive in AAV patients, results showed.
Older age significantly associated with an increased risk of cardiovascular events, as did a higher Framingham risk score — a standardized algorithm used to estimate a person's 10-year cardiovascular risk.
Patients with a history of prior cardiovascular events and those with diabetes were both more than three times as likely to have a cardiovascular event than those without these factors. Elevated levels of HbA1c, a marker of blood sugar, also associated with a nearly four times higher risk of such events.
High blood pressure was significantly linked to an increased risk of cardiovascular events in initial models, but this association lost its statistical significance when the models were adjusted for patients' age. The other predictors remained statistically significant.
"In this study, age, the Framingham risk score, [diabetes], and HbA1C were strongly associated with CV [cardiovascular] events," the researchers wrote.
Since most patients with insulin resistance were being treated with steroids, the researchers noted that observed link between diabetes or high blood sugar and cardiovascular risk might be an indirect effect of steroid treatment.
"It is likely that treatments further affect traditional risk factors, such as for steroids causing long-term insulin resistance and [diabetes]," the team wrote.
However, "since data on cumulative steroid dosage was missing, we cannot draw definite conclusions on the association between CV events and steroid use, a commonly reported risk factor for CV events in other diseases," they added.
Other traditional risk factors in the general population, such as smoking and abnormal levels of fat in the blood, did not significantly associate with an increased risk of cardiovascular events among the AAV patients.
Disease-specific factors, such as types of AAV-driving antibodies, also did not show significant relationships with the risk of cardiovascular events.
"Nevertheless, disease-related factors which were not captured in this study could modify cardiovascular risk, such as chronic inflammation or high cumulative steroid treatment," the researchers wrote.
They noted that their study was limited by its relatively small size, and by the considerable variability in clinical presentation among its participants, which may have limited the researchers' ability to detect statistically meaningful associations.
"Ultimately, to identify high-risk patients, ANCA-specific CV risk prediction models should be developed and validated in large international [groups of patients]," the team wrote, as addressing risk factors that can be treated is essential to better outcomes.