Inflammatory Proteins May Serve as Biomarkers of Early Disease, Kidney Damage in AAV, Study Suggests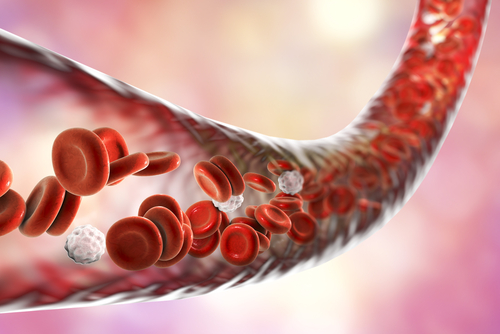 Determining the levels of interleukins in the blood, specifically IL-10 and IL-33, may help identify people with early systemic ANCA-associated vasculitis, and those at risk of kidney damage, a study suggests.
The study, "Cytokine profiling in anti neutrophil cytoplasmic antibody-associated vasculitis: a cross-sectional cohort study," was published in the journal Rheumatology International.
ANCA-associated vasculitis (AAV) is a collection of autoimmune disorders associated with the production of anti-neutrophil cytoplasmic autoantibodies, or ANCAs, which target one of two proteins — proteinase 3 (PR3) and myeloperoxidase (MPO).
These autoantibodies wrongly activate neutrophils — a type of immune cell — attached to the blood vessel wall, ultimately damaging the walls of small vessels in different tissues and organs.
However, there is a lack of biomarkers for predicting both disease severity, and how patients may respond to immunosuppressive therapy, the standard for AAV.
To address that gap, researchers recruited 62 AAV patients — 39 women and 23 men, mean age 60.5 years — from the University Hospital Göttingen in Germany. The researchers examined their blood samples for pro- and anti-inflammatory cytokines — signaling molecules used by immune cells to communicate with the environment.
They hoped these signaling molecules could potentially be used as predictors of disease severity in routine clinical testing.
Among the patients, 45 had anti-PR3 antibodies and 17 had anti-MPO antibodies. As controls, researchers used blood samples from six patients with systemic sclerosis (SSc), and 20 healthy people.
The investigators measured the levels of nine pro-inflammatory cytokines, specifically IL-1β, IL-6, IL-17 A, IL-17 F, IL-21, IL-22, IL-23, TNF-α, and sCD40L. They also measured six anti-inflammatory ones, namely IL-4, IL-10, IL-25, IL-31, IL-33, and INF-gamma. However, the majority of cytokines were too low to be detected — which was unexpected.
"The most intriguing result of our study were all the findings which must be considered as negative or absent: numerous serum candidate cytokines were not detectable at all/fell under the lower detection limit of the assay," the researchers said. One that did meet the criteria was IL-10.
Among the anti-inflammatory cytokines, levels of IL-10 were higher in AAV than in the healthy controls, the investigators said. IL-10 also was significantly increased in the systemic sclerosis group. Researchers found no differences between AAV and SSc patients.
Another anti-inflammatory cytokine, IL-33, showed a similar pattern, with both AAV and SSc patients showing elevated levels compared with healthy controls.
While IL-10 was particularly higher in patients with early systemic vasculitis, IL-33 was lower in people with renal involvement, and among those receiving Rituxan (rituximab) treatment. No changes were seen related to relapsing and non-relapsing disease.
Regarding pro-inflammatory cytokines, TNF-α showed no differences between AAV and healthy controls. However, it was significantly lower in  people with AAV compared with those with SSc.
Conversely, CD40L was almost three times higher in people with AAV compared with healthy controls, and levels were high regardless of the kind of ANCA antibodies. Higher concentrations of CD40L also were seen in early systemic and refractory AAV.
These results suggest that measuring levels of IL-10 may help identify early AAV, while determining levels of IL-33 may help to identify those with a higher risk for kidney damage.
"Serum IL-10 may potentially serve as a marker of early systemic AAV [and] serum IL-33 may help to identify subjects with a higher risk for necrotizing [glomerulonephiritis]," the researchers concluded. "Further studies must focus on longitudinal dynamics of these cytokines in AAV of different severity/activity."