EC Approves MabThera Biosimilar Rixathon for Treatment of Granulomatosis with Polyangiitis and Microscopic Polyangiitis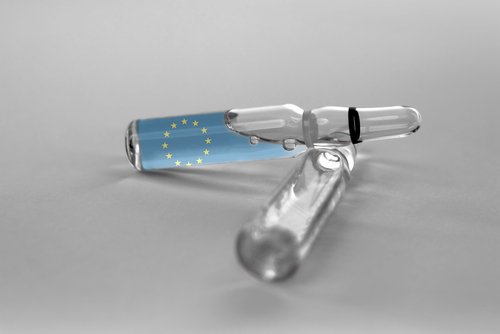 The European Commission (EC) has approved the use and marketing in Europe of Rixathon, a biosimilar to Roche's MabThera (rituximab). The decision follows a positive review of Rixathon by the Committee for Medicinal Products for Human Use (CHMP) last April in response to Sandoz's marketing application.
EC regulatory approval allows Rixathon use for all of MabThera's medical indications, including non-Hodgkin's lymphoma (NHL), chronic lymphocytic leukemia (CLL), rheumatoid arthritis (RA), and two forms of antineutrophil cytoplasmic autoantibodies (ANCAs)-associated vasculitis (AAV) disorders: granulomatosis with polyangiitis (Wegener's) and microscopic polyangiitis.
Biosimilars are biological medical products that are nearly identical to the original product but manufactured by a different company. They can be manufactured when the patent to the original product expires and are usually sold at significantly lower prices.
"Today's approval of Rixathon represents a big win for patients in Europe with blood cancers or immunological diseases because it enables increased access to biologics. It also allows healthcare systems to redeploy resources to other areas of high need, particularly innovative therapies," Carol Lynch, global head of biopharmaceuticals at Sandoz, said in a press release.
Rixathon, formerly known as GP2013, underwent a comprehensive development program to evaluate its efficacy, safety, and tolerability in comparison to the reference drug.
The EC decision was based on data from several preclinical studies and three clinical trials, which demonstrated the non-inferiority of Rixathon compared to MabThera, which is marketed as Rituxan in the U.S.
The Phase 1/2 ASSIST-RA trial (NCT01274182) showed that Rixathon had similar drug dynamics as its reference product while maintaining positive clinical effects in patients with RA. Rixathon's broader clinical applicability was supported by results of the Phase 3 ASSIST-FL study (NCT01419665), which demonstrated its safety and efficacy in follicular lymphoma.
The Phase 3 ASSIST-RT study (NCT02514772) assessed the impact of changing from MabThera to Rixathon in patients with RA, with positive data supporting the use of Rixathon as a biosimilar MabThera medicine.
"Sandoz is committed to increasing patient access to biologic medicines, and Rixathon will be one of the five major launches we plan in the next four years. We have worked with care and passion towards this approval, and now is the time when we are bringing this medicine to healthcare professional and patients in Europe," Lynch said.